Pizza Pilgrims was born in a pub in Shepherd's Bush in summer 2011. From there, we acquired a little 3-wheeled Piaggio Ape van, collected her from the south of Italy and spent six weeks driving her home. We learnt everything there is to know about pizzas, from some of the most famous pizzaoli in the world. We learned about dough in Naples, mozzarella in Caserta and Basil in Genoa - and left no stone unturned on what turned out to be a six week "Pizza Pilgrimage" through Italy.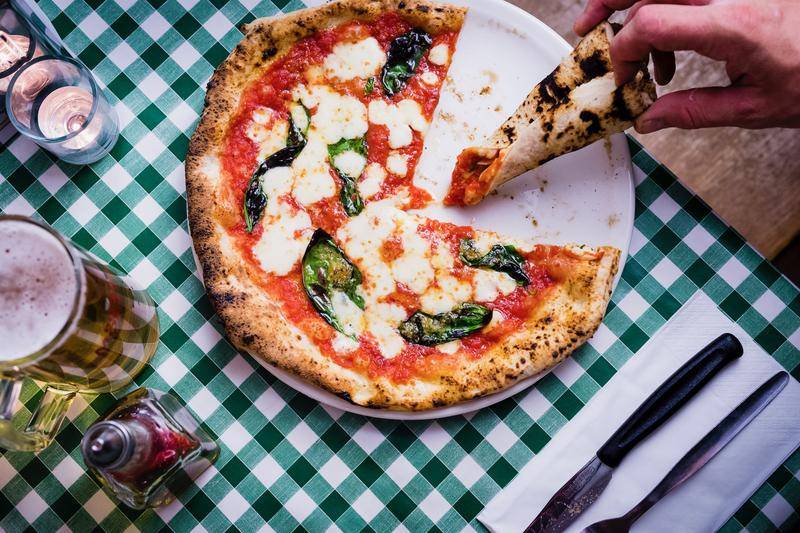 Once we got back, we installed an Italian stone oven in the van, and sold our first pizza in March 2012 on Berwick St market in Soho. Since then, we have traded at every type of event imaginable, from music festivals, to football matches, from "Vertical Dance" (that's pole dancing) championships to barmitzvahs. It has been a pretty crazy ride - and all at a 28 mph top speed.
We work incredibly hard to ensure the quality of our pizzas. All the ingredients are shipped from in and around Naples. All of our dough is hand made and proved for 24-48 hours, and we make sure that the oven runs at over 460 degrees C (even in mid summer) so the pizzas come out just right. Pizza is all about quality and simplicity - and those remain the core elements of the business.
In August 2013, we opened our first pizzeria on Dean St, again in our spiritual home of Soho. It was an incredible learning curve, but keeping the same formula (albeit adding a fuss ball table and some dodgy tunes) has served us well. Our second pizzeria in Kingly Court opened in Summer 2014, with the third in Exmouth Market opening late 2015. We have now opened 13 locations in London, and our first pizzeria out of London in Oxford.

Our latest venture is a "Pizza Academy" designed to inspire young people to choose hospitality as a career - as well as being a centre of excellence for all things pizza - to ensure we remain on a perpetual pilgrimage of improvement as a company.